Part 1 – Your Horse is the Mirror to your Soul…
So I've been pondering how to start writing this first entry for quite a while, since we decided that blogging on the OE website was a great idea. In that time I've had a few (quite a few!) profound moments with Roma and thought "This is it. This is most definitely the point at which I should begin my 'Roma blog'", but somehow I never quite get to it. How do I even begin to write about this incredible, frustrating and by default painfully self-reflecting journey?! So tonight (at thirty seven minutes past midnight), I decided to just do it and see what happens.
The truth is, I'm glad for the opportunity. I feel like this journey should be documented, even if only for myself, to mark the milestones, remind myself of where we've come from and maybe reminisce when one day she leaves me, as is the fate of every horse owner. But if I have the opportunity to share it, then not only may it make entertaining reading at times, but perhaps it will also encourage those of you who are also struggling with the psychology of these amazing creatures and your training philosophy, because Roma has been and continues to be the biggest challenge of my life to date. More so than marriage. More so than divorce! Harder than being a parent, if you can believe that. The thing is, this horse and I are so fundamentally linked, that I can't even begin to understand it myself. We were meant to be, there's no question. No other horses interest me and no other humans interest her (well, except my six year old daughter, whom she adores). And yet, I just don't get her. Or do I…?
I decided on the title of this first entry several weeks ago when Roma and I hit deadlock and suddenly something massive shifted…
We entered the arena as usual, on a long line, with lots of creative ideas about what we were going to achieve today (think Pignon brothers – I'm ever the dreamer and always overly ambitious!). The ideas of course, were mine and I was full of enthusiasm, as usual. Roma looked pretty uncommitted. As usual. I did some hind and front end yields. As usual. Because this is of course what you do at the beginning of a session. And then I asked her to start trotting. As usual. Because that is of course the next thing to do.  (I do find I have a problem getting stuck in patterns. There's a safety in them that attracts me). Roma throughout this process is looking less than excited…. As usual. Then, because she wasn't responding as I had intended (very un-Pignon like), I increased the pressure, as usual, and as usual, she squealed and bucked and went forward for…..a bit… And then of course we repeated the pattern several times until, as usual, she seized her opportunity, pulled away and galloped to the other side of the arena. (Amazing how fast she can move when the idea is hers!)
And so, I reached into my bag of horsemanship tools to use in this situation, pulled out a different one from the last time, although still relatively usual (let's not shake it up too much) and we chased each other around for far too long in this bizarre and frustrating game of catch, every now and again resuming positons and playing out the same scene until, quite unusually, we both stopped dead at once. Both of us out of breath and out of ideas, we stood facing each other around thirty feet apart and locked eyes. Neither of us dared move a muscle because something happened in that moment that I can't explain, but I was suddenly so overwhelmed with emotion that I began to cry. And although I'm sure that exasperation played its part in this eruption, what in fact really got me was that in that fraction of a second, we finally connected and I understood everything. This horse is me. I am her. We are the same.
Oh God. Now, this is a tough pill for me to swallow because Roma is really quite angry. I adore this animal, but people, she's not fun to ride and she's not fun to play with. She questions everything I ask of her. Not in a good way either. I mean, we're talking really argumentative. And when she does do as I ask, she's usually trying to bite me simultaneously, or tossing her head – just to let me know she's not really into it, or throwing in the occasional defiant buck! Those of you who saw her with Buck Brannaman, or have seen her with me at other clinics will know what I'm talking about. And believe me; what you've seen is nothing. It's taken me years of patience, gentle coercion and the occasional surge of assertiveness, to get her to a place where she doesn't just want to kick or throw me into oblivion. The fact that I can actually ride her and that she will actually go somewhere is, as anyone who knew Roma once upon a time will tell you, quite frankly a gobstopper of an achievement. These days, by comparison, she's simply writing a sensibly worded complaint letter to 'Points of View'.
I did ask Buck, back in June what he meant when he famously said "your horse is the mirror to your soul", and he wouldn't give me an answer. I think he knew that I needed to find it for myself. Because he rode her for three days straight and during that time he probably understood me better than I did myself just then, because in my horse he had a window to my soul. And he knew, from looking through that window, that you can't tell me - just like you can't tell my horse. Because not only am I really quite defiant, but I'm also extremely sensitive. And that's a tricky combination! It's probably best to let me just work it out in my own time and then we'll still be friends… Wow.
So Roma and I stood there for nearly twenty minutes, not moving, breathing getting steadier, eyes still locked, letting it really sink in. And when it did, she dropped her head and blew out in a giant release. Thank the lord, she said. That only took you eight years.
Where do we go from here...? I'm not sure yet, but I'm working on it and I promise to keep sharing…
Nicole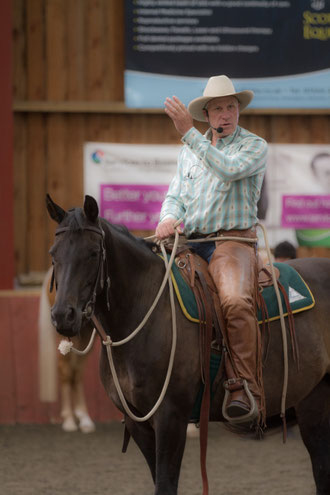 Roma and Buck, Merrist Wood College, June 2015