(scroll to the bottom of the page for clinic booking options)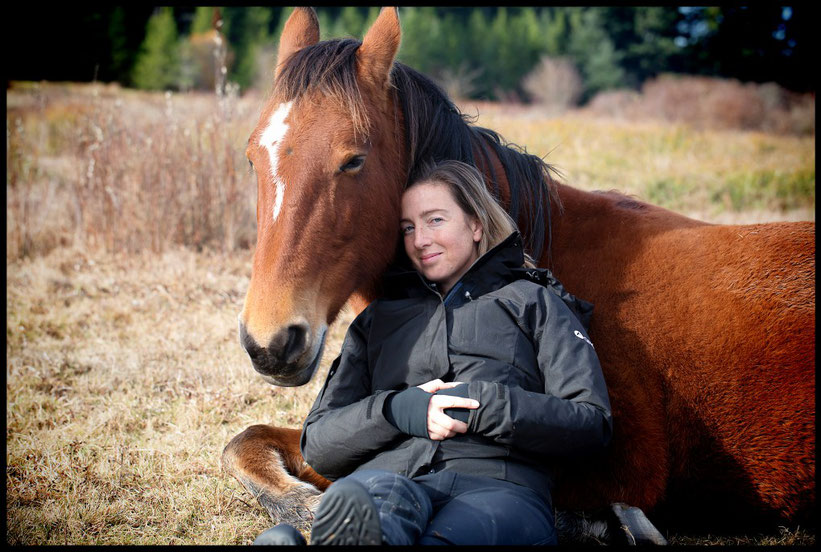 ---
28th September 7.30pm - Willow Fields, Pump Lane North, Marlow SL7 3RA
We are delighted to be able to offer a fish & chip supper, courtesy of our local chippie! Food options include either Cod & Chips or Halloumi & Chips for vegetarians. These are the only options we are able to offer, but you are welcome to bring your own if you choose a movie only ticket. Please feel free to bring a bottle if you would like to add a little of your own jazz to the evening! Soft drinks and hot drinks will be provided.
---
If you don't know Elsa's work, prepare to be blown away!
It all started with a question... that became a project... that became a crowdfunding campaign... that became a film, that became the 'Freedom Based Training' programme.
The question was...
"What if horses were given a choice? Would they let us ride them? Without force or tools to control, and without bribes to lure them?"
Elsa spent a year on this journey, with Myrnah, a 5yr old wild Mustang off the range, no tools, or ropes, just the two of them and the language they developed together. She didn't know if it could be done.
Since then, Elsa has created her globally successful online course 'Freedom Based Training' and travelled extensively around the world teaching clinics. 2018 saw the making of her second film Taming Wild; Pura Vida, documenting a trek across Costa Rica, on foot, with two rescued horses, helping them build trust and confidence in humans, so they may have a chance to be rehomed. Pura Vida is now in its final stages of post-production, ready to be released this year! 
In 2018/19 we have been watching Elsa embark on another Taming Wild project - 'Evolution'. This project pushes the boundaries even further as she works with two stallions, all the while asking the same questions, but getting very different answers! Elsa documents her work in her deeply honest and inspiring blog, which you can read here www.equineclarity.org/. 
(See the Taming Wild movie trailer at the bottom of this page and download the full film at www.tamingwild.com
This clinic brings together the nuts and bolts of how we read, respond to and collaborate with our horses as we develop the depth of relationship we want and work toward common goals. 
The time we spend will allow us to bring depth to our understanding of what it is to forge a deeper bond with our horses; spending time building the skills it takes to work with our horses instead of against them, no whips, no treats, and no motivation other than horse and human working together in the intrinsic enjoyment of the moment. The beginning of a true conversation.
The clinic will give each of you, individually, a chance to focus in on your personal goals and discover what kind of tools and skills are most appropriate and necessary for your development. We start from a basis of Freedom Based Training™ and over the course of the two days, we will hone the tools most appropriate to your personal situation to forge a deeper bond and better relationship with your horse.
A workshop format, where participants will work with their horses individually, in small groups, immersing themselves in the concepts of Freedom Based Training and exploring the next level of horsemanship. Each day will open with a classroom session.
Workshops are open to participants of all levels and abilities. Freedom Based Training™ is adaptable to every level of ability - you and the horses will always have something new to learn about each other!
Address: Willow Fields, Pump Lane North, Marlow, Buckinghamshire SL7 3RA
Each day will start at 09.30 and finish around 17.00.
The venue is very open, so please bring clothing for all weathers, from suncream to raincoats! There is a large viewing marquee for spectators, should it rain.
Spectators, there is no need to bring your own chair as we have seating at the venue.
Tea, coffee and biscuits will be provided all day, but please bring your own lunch and anything else you might need. Should you prefer to go out at lunchtime, the Three Horseshoes pub across the road serves good food, or there is an Asda superstore two miles away that has a range of hot and cold food options. Additionally, the nearby town of Marlow has a variety of shops, delis and supermarkets.
Respectfully, we ask that spectators do not bring dogs to the venue. This is because we have our own dogs that will be on site throughout the weekend.
There is plenty of parking for horseboxes and cars on-site.
You are welcome to camp onsite in your horsebox, or caravan, but please note that there is no hook up. 
Below we have comprised a short list of local hotel/B&B options and there are many more in the area:-
Premier Inn Marlow
The Causeway
Marlow
Buckinghamshire SL7 2AA
Crowne Plaza Marlow
Fieldhouse Lane
Marlow
Buckinghamshire SL7 1GJ
Glade End Guest House
2 Little Marlow Road
Marlow
Buckinghamshire SL7 1HD
Holiday Inn High Wycombe
Handy Cross
High Wycombe
Buckinghamshire HP11 1TL
Rider places
Places are £320
To book your place, please make a deposit payment, using the button below and then complete and return the booking form as soon as possible.
Booking Form - please download and complete the form and return it to us as soon as you have made your deposit payment to confirm your place
Please note rider deposits are non-refundable as standard. In the event that you are unable to ride we will do our best to fill your place, but will only be able to offer a refund, less administration fee, in the event that we are able to do so.
Book your spectator place
If you can't bring your horse, come and spectate!! 
---