---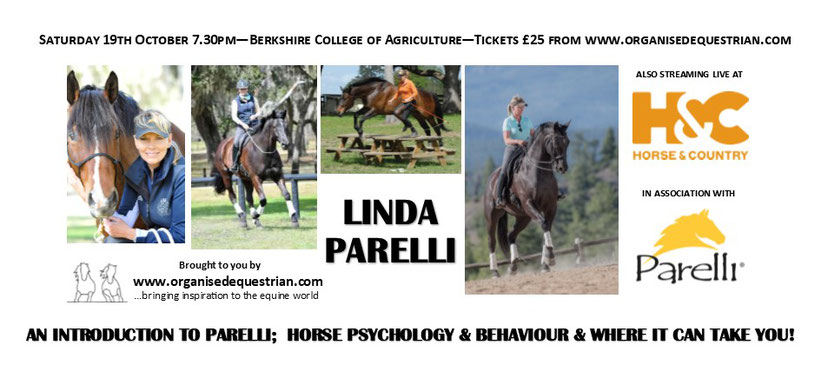 An introduction to Parelli with Linda! 
Ticket £25
Doors open 19.00 for 19.30
Interval 20.30-21.00
Finish 22.00
Shopping and catering onsite!
---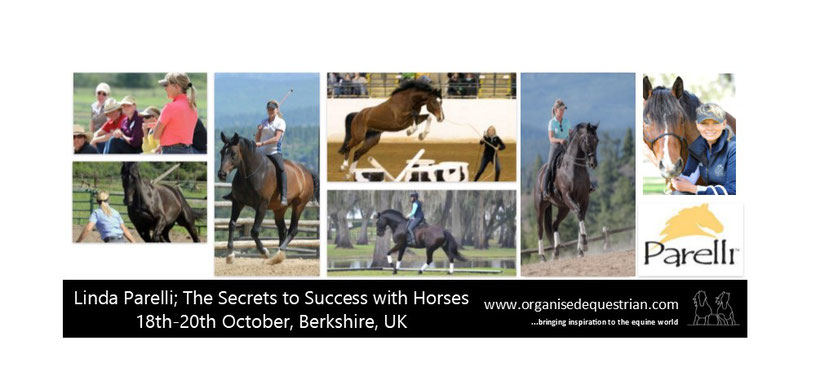 'You have to love horses, to want to be partners, to empower them, and to engage in a conversation rather than simply giving them instructions to follow. Some people think their techniques are important, but when you put the relationship first, it impacts your feel and timing. Anyone can make a horse do something, but can you get them to want to do it?' Linda Parelli
Each of the 3 intensive days will be focused on different topics, this will include theory sessions and practical ground and ridden sessions.
This clinic will be excellent for anyone with an interest or background in Natural Horsemanship, that is looking to build an advanced foundation based on horse psychology, whilst having a lot of fun!
Please note that we have a limited amount of spectator tickets available at this venue, so please book early to avoid disappointment.
Tickets are available for 1, 2 and 3 days - pricing in the drop down menu below.
Spectator tickets are non refundable.
Parelli Savvy Club Gold members will receive a VIP upgrade. Please use the message box on the PayPal payment form to let us know your gold membership number at the time of booking.
Important: Member pricing is a benefit for members only. Please do not use your Savvy Club membership to book tickets for non-members.
Savvy Membership is now $19.95 per month. To become a Parelli Savvy Club Member, please go to https://members.parelli.com/memberships-2019/
RIDER PLACES ARE NOW FULL
Please email if you would like to go on the waiting list for this clinic, you will also then be informed about Linda Parelli's next UK clinic. email organisedequestrian@gmail.com
Please note rider deposits are non-refundable as standard. In the event that you are unable to ride we will do our best to fill your place, but will only be able to offer a refund, less administration fee, in the event that we are able to do so.
Doors open: 08.30
Clinic time: 09.30 - 17.00 with a break for lunch
Format: There are 18 riders on the clinic. Each day will focus on a different topic or Savvy, but we won't know the order of play until the start, as Linda will determine this by the needs of the group. The group will be split into two, both groups doing an am and a pm session.
Parking
There is plenty of parking on site. Please follow the signs on arrival at the venue.
Seating
The seats are not reserved, except for VIP members and riders. Please arrive in plenty of time to ensure you get your choice of seating and that you can sit with your friends! We recommend you bring along a cushion and blanket.
Catering
There will be catering available on site, serving hot food and drinks all day. 
Shopping
You will be able to do all your Parelli shopping at the event and take advantage of super offers on products not usually available!
Camping
Is only available in your lorry, there is no hook up available.
VIP Members
VIP members are eligible for VIP perks, including reserved parking and seating & Q&A with Linda. Please make sure that we know you are a VIP member prior to the event! 
Dogs
Regrettably dogs are not allowed in the arena. If you do need to bring your dog, there is a footpath connected to the venue where you are able to walk dogs on the lead.